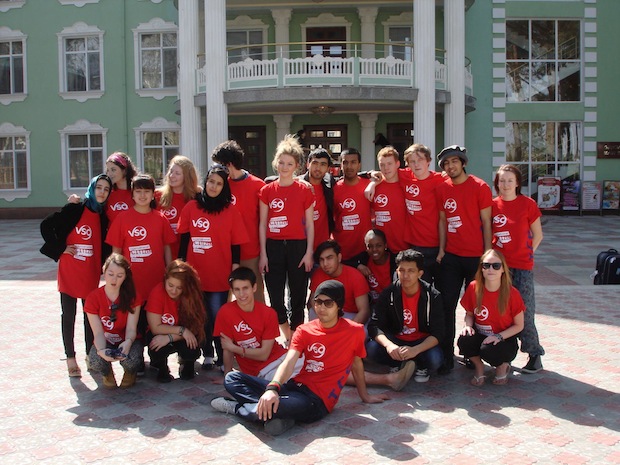 Natasha McKenzie from the Isle of Man is an 18-year-old student who is in her gap year. With the help of Manx Youth Opportunities and helicopter operations company Luviair, Natasha is visiting Tajikistan with the Volunteer Services Overseas organisation.
Natasha is writing about her adventure. Here is the first part:
"The VSO (http://www.vso.org.uk/) is an amazing charity that sends youths aged 18-25 to many poverty stricken countries, including Africa, Tanzania, Philippines and India. Volunteers work on major projects effecting community groups, such as HIV/AIDS awareness and global warming through to empowering women and preventing women and children sex trafficking.
I have always wanted to volunteer overseas, and I was lucky enough to find out about VSO on the good old Google search engine.
What will I be doing in Tajikistan?
Many people – myself included – had never heard of Tajikistan. It is the poorest country in central Asia and after years of civil unrest the economy lies broken. One in seven men flee the country in search of work, often to never return, leaving wives and children to fend for themselves. I will be working alongside the 'Association of Business Women in Tajikistan' to help women set up business' and get into work.
As I write this I am getting ready to leave the safety (if not the warmth) of the Isle of Man. I'll be meeting up with 11 other UK volunteers for the flight to Moscow, from where we'll take another flight to Khujand, in the North of Tajikistan. Once there we will receive four days of training before being set free in the city to work alongside budding potential entreprenuers, to help them on their way to earning money, and taking that first step out of the only existence they have ever lived: poverty.
I'll send my next post from Tajikistan. Natasha."
Please re-tweet this story.
#VSO Manx Youth Opportunities trip to Tajikistan. nigelwatson.im/?p=319

— Nigel Watson (@nigelwatsonIM) April 2, 2013